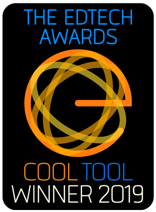 April 26, 2019 – MobyMax, the most widely adopted differentiated learning solution in the U.S., has been awarded the 2019 EdTech Award for Best Adaptive Technology Solution.
The EdTech Awards are presented annually to the most exceptional innovators, leaders, and trendsetters in education technology. Award finalists and winners are selected from thousands of entries made by educators who use technology to enhance, improve, and transform their everyday instruction.The Best Adaptive Technology Solution award recognizes Moby's comprehensive and groundbreaking suite of tools. Teachers use Moby to assess their students, close learning gaps, and reward students in real time to motivate them to excel. The Moby Learning tool finds and fixes learning gaps with adaptive, differentiated learning in all K-8 subjects. Moby Assessments helps teachers not only pinpoint missing skills but also map student progress via both formative and summative assessments. Moby Interactive engages the entire class with Skills Review, Whiteboard Activities, and printable worksheets, utilizing over half a million problems and manipulatives. Finally, Moby's newly launched Real Rewards is the fastest way to create classroom excitement around learning. The program includes four high-impact events throughout the school year where students and teachers earn coveted Moby swag and classroom parties. These four tools come together to form Moby Suite, the most comprehensive solution in the market.
"MobyMax was founded with the goal of enabling all children to learn twice as fast," said Glynn Willett, MobyMax co-founder and a finalist in EdTech's Visionary Leadership Award category. "Once we realized that the key to such achievement was adaptive technology that would help each individual student, we set out to create exactly that." MobyMax is now used by 1.5 million teachers and 28.7 million students in 82% of K-8 schools in the U.S.
In addition to winning the Best Adaptive Technology Solution award, MobyMax was a finalist in these categories:
Cool Tool Awards
Digital Courseware Solution
Language Arts Solution
Math Solution
New Product or Service (released in 2017 or later) – Moby Suite
Early Learning Solution
The EdTech Leadership Awards
Founder(s) – Wade Willett
National (U.S.) Leader – Wade Willett
Visionary – Glynn Willett
The EdTech Trendsetter Awards
Edtech Company Setting a Trend
MobyMax was the most awarded edtech company in 2018, earning 49 industry awards, including the prestigious CODiE award for Best Pre-K/Early Childhood Learning Solution and the 2018 Tech Edvocate Award for Best Global EdTech Company. The four solutions included in Moby Suite—Moby Learning, Moby Assessments, Moby Interactive, and Moby Real Rewards—have received over 10,000 rave reviews.
For view the entire list of finalists and winners of the EdTech Digest Awards, visit https://edtechdigest.com/2019-finalists-winners/.
For more information, visit http://www.mobymax.com.
About MobyMax
MobyMax helps struggling learners quickly catch up to grade level and closes learning gaps for all students.
Moby Learning, Moby Assessments, Moby Interactive, and Moby Rewards are all award-winning solutions individually. When combined together in Moby Suite, they create the most effective solution to find and fix learning gaps.
MobyMax is used in more than 82% of all K-8 schools in the United States, with over 28.7 million students and 1.5 million teachers registered.
About EdTech Digest
The EdTech Awards were established in 2010 to recognize, acknowledge, and celebrate the most exceptional innovators, leaders, and trendsetters in education technology.
More than US$50 billion has been invested worldwide across the global edtech landscape in just the last several years, while global education and training expenditures are set to reach a whopping $10 Trillion by 2030, according to some estimates.
For more information about The EdTech Awards, visit https://edtechdigest.com/